Offering Safe, supportive shelter to women and families with children
Madge Phillips Center Shelter (MPC)
If you are experiencing a housing crisis, please call Waypoint's Shelter Service Line at 319.366.7999 or call the Balance of State 24 Hour Call Center at 1.833.739.0065. To reduce your wait time on the phone, you can also enter your contact information into our online portal by clicking this link: https://ICA.formstack.com/forms/call_center_portal
Since opening in 1995, MPC has worked to empower homeless women and families to take steps toward stability so they can achieve permanent housing. MPC has 17 rooms with communal bathrooms, living room, kitchen, laundry, and child area. Individuals temporarily staying at MPC have access to the following resources:
Basic needs
Information
Strategic community referrals
One-on-one support
Skill development
Goal setting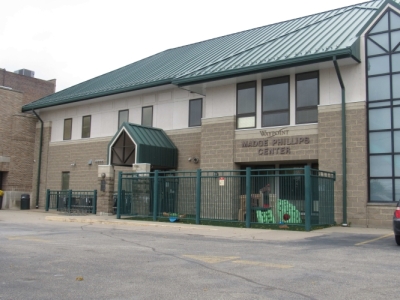 Learn more about how Madge Phillips' passion continues through MPC
As a woman who championed causes of women, children, and the elderly, Madge Phillips (May 1916 - May 2006) was a visionary and innovator in providing human services to the Cedar Rapids community. With accomplishments including serving as a Director of the Department of Human Resources Management, establishing the Child Protection Center, combining three sheltered workshops into one center called Options of Linn County, and guiding the development of the Witwer Senior Center as a nonprofit agency, Madge Phillips lived a life of service that extended well into her retirement. With Madge having lived a life of advocacy for issues related to women and children, the Madge Phillips Center, a project of the Junior League of Cedar Rapids, was named after her in 1995. Madge's commitment to the area has made a lasting impact that continues through the work of MPC.
If you are experiencing a housing crisis, please call Waypoint's Shelter Service Line at 319.366.7999 or call the Balance of State 24 Hour Call Center at 1.833.739.0065.
Contact Waypoint
318 5th St SE
Cedar Rapids, IA 52401