Tribute Honor Society Provides Hope to Waypoint Clients Working to Move Forward
Every year, Waypoint maintains a tradition of recognizing women for their personal, professional, and civic contributions to the community through Tribute to Women of Achievement. Reflecting Waypoint's mission of inspiring people to move forward, these women are agents of change in the Corridor through their innovations, organizational enhancements, leadership, and service to others. Their efforts demonstrate the positive influence and impact women have in our community every day.
After the honorees are recognized at Tribute, they are invited to join the Tribute Honor Society. Membership dues for the society help fund the Women Helping Women Scholarships, which are awarded to women utilizing Waypoint's programs who are working hard to achieve their goals related to education, professional development, and/or basic needs.
2020 Scholarship Recipients (please note: names have been changed for confidentiality reasons)
Lucinda is a single mom of two kids, and her daughter has been enrolled with KidsPoint Child Care for the past six years. She first moved to Cedar Rapids from a different city and had no family or friends in the area. It was important to her to find child care she could trust, and Waypoint has since become her family. Lucinda was able to attend KidsPoint Child Care due to the assistance she received from Waypoint's Family Support Program, which offers scholarships to families who do not qualify for state assistance. With support and guidance from her Family Support Specialist, Lucinda went from working for minimum wage to doubling her income working at a company that empowers people and offers advancement opportunities. In her free time, she volunteers with different groups in the community such as 'Fired up for Single moms' and the Salvation Army so she can help others the way people have helped her over the years. Lucinda will use the scholarship funds to cover the cost of her daughter's child care.
Rashida came to Waypoint in 2018 through the Coordinated Entry Program while being housed at another shelter in the community. Rashida qualified for Waypoint's Rapid Rehousing Program, which assisted her with identifying housing and provided rental assistance. In December, her Housing Specialist completed the inspection for Rashida's potential new housing, and she was able to occupy the space in January of 2019. Rashida has now been in secure, stable housing for the last year. Waypoint also assisted Rashida with securing Social Security for her uncle, who she is the primary caregiver for, and completing the necessary paperwork to become a U.S. citizen. Rashida continues to work with Waypoint to ensure she is able to maintain her housing and keep moving forward for her and her family. She plans to use the scholarship funds to pay for her children's school tuition.
Julie got connected with Waypoint after seeking support from the church located next to Waypoint. She was looking for a safe place for her and her children after experiencing abuse from her partner for several years. She feared for her life and the safety of her children, and she knew it was time to make a change. When they left, they were only able to take a few clothing items and some important paperwork. "Waypoint has truly been a blessing to me and my family. My advocate helped me regain safety and stability and a support system for my family. Waypoint gave us a home again." Julie is planning to use the scholarship funds to replace some of the things that were lost when she left her partner, including a lot of things for her children. She is also hoping to update security at their new home to ensure she and her family remain safe.
Waypoint would like to give a huge THANK YOU to the 2020 Tribute Honor Society members. These scholarships would not be possible without your support. Thank you for inspiring these women to continue moving forward in their lives.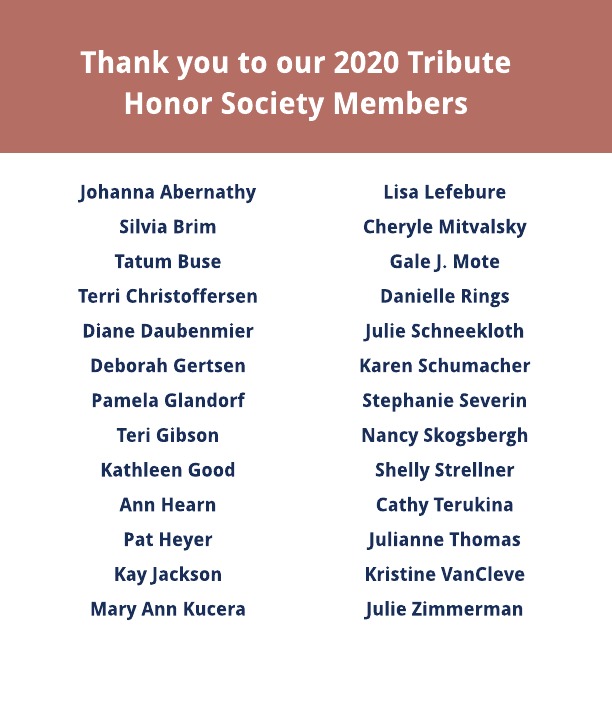 Previous
April is National Volunteer Appreciation Month, which is truly a time to celebrate all the incredible individuals and groups who make an impact at Waypoint. Especially during times of crisis and uncertainty, which we are all facing now due to the spread of COVID-19 across the country and in our community, volunteers are now more important than ever and even more deserving of recognition. While we can't recognize our volunteers in a traditional way, we are doing our best to send our love and support virtually as we patiently wait for the day that we can all be together again.
Next
Waypoint spent 2019 celebrating 125 years of working to improve the lives of those in need in the community. With a long history beginning as the Young Women's Christian Association (YWCA), Waypoint continues to focus on providing life-changing resources and services to community members experiencing poverty, homelessness, and domestic violence. While the mission of "inspiring people to move forward" has remained a constant, the organization itself has changed drastically over the years.
SHARE THIS PAGE
Domestic Violence Resource & Support Line
Housing Services
Contact Waypoint
318 5th St SE
Cedar Rapids, IA 52401