nurturing amazing little minds through quality child care
KidsPoint Child Care Program
Waypoint's Child Care Program, KidsPoint, is built upon over 30 years of experience designed to offer high-quality early education to children from all backgrounds. Serving over 400 children ages six weeks to 12 years old daily, KidsPoint helps provide positive early learning experiences through research-based, educational programming that incorporates:
Creative Curriculum®: curriculum used in the classrooms with a focus on physical, social-emotional, cognitive, and language development; also focuses on creative play
Jolly Phonics: a multi-sensory, interactive program designed to introduce letters, letter sounds, and letter formation to young children
Second Step: a program that promotes success and early learning in the classroom, school readiness, and social success
The 40 Developmental Assets®: using building blocks of healthy development that help young people grow to be healthy, caring, and responsible
KidsPoint is composed of two Learning Center and Preschools, a before/after school site, and Summer Day Camps. Understanding that the first five years of life can determine a child's future success, KidsPoint's curricula focus on:
Physical growth
Cognitive learning
Social-emotional learning
A Family Support Program is also offered to families who otherwise could not afford quality, licensed child care.
Visit KidsPoint's official website for more information
More details about KidsPoint can be found at www.kidspointchildcare.org or on Facebook!
If you are needing child care, please call 319.365.1636.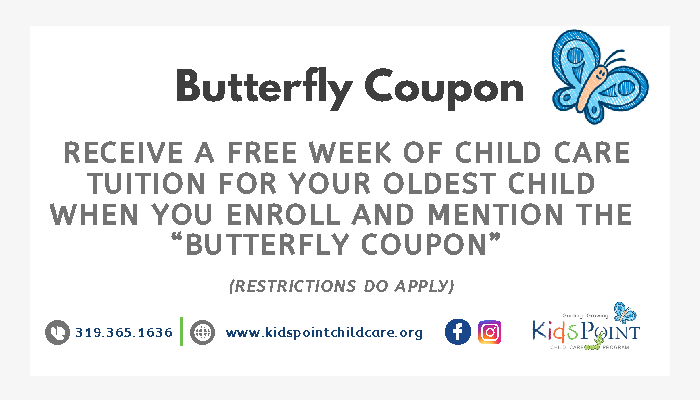 Domestic Violence Resource & Support Line
Housing Services
Contact Waypoint
318 5th St SE
Cedar Rapids, IA 52401