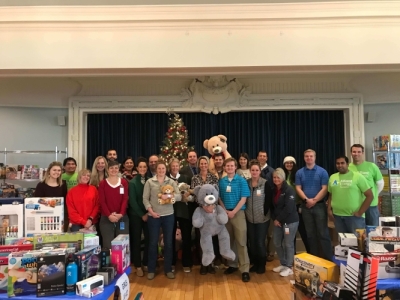 COVID-19 UPDATE
In order to protect everyone's health and safety, Waypoint will be hosting Waypoint Wonderland as an "adopt-a-family" style event for 2020. Please see below for more details.
spread some holiday cheer
Waypoint Wonderland
Make the holiday season extra bright for a family in need! Waypoint Wonderland is a celebration that provides holiday gifts to families served at Waypoint who are experiencing homelessness, poverty, or violence. Last year, Waypoint provided gifts to over 500 children in need. In addition, each parent also received a gift.
How can you help? Community members and businesses are asked to extend their holiday cheer by adopting a family (or two) that utilizes Waypoint's programs. You will be provided with gift ideas from the family for each child. Items will need to be gift wrapped and delivered to the family (if given permission) by December 20. Waypoint staff will also be available to coordinate gift deliver on December 17 and 18 if preferred.
If you are interested in participating, complete the Waypoint Wonderland agreement and email to Brittany at bappleton@waypointservices.org by December 11.
---
Housing & Homeless Services
Contact Waypoint
318 5th St SE
Cedar Rapids, IA 52401