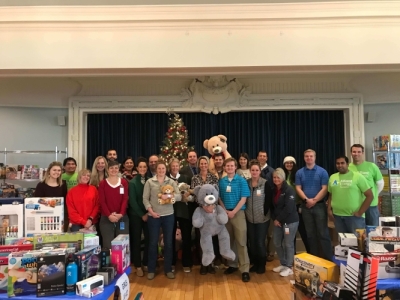 COVID-19 UPDATE
Waypoint is still reviewing guidelines from the CDC and the state of Iowa to determine the logistics of this event in November/December 2020. A final decision about volunteer opportunities related to Waypoint Wonderland will be made no later than October 30.
Please feel free to contact Brittany at bappleton@waypointservices.org with any questions you may have. Your health and safety are a top priority.
spread some holiday cheer
Waypoint Wonderland
Make the holiday season extra bright for a family in need! Waypoint Wonderland is a celebration that provides holiday gifts to families served at Waypoint who are experiencing homelessness, poverty, or domestic violence. Last year, Waypoint provided gifts to over 500 children in need. In addition, each parent also received a gift.
How can you help? Community members and businesses are asked to extend their holiday cheer by donating brand new, unwrapped gifts to support Waypoint Wonderland. Waypoint Wonderland wish list ornaments are also available if you would like to host a donation drive. Volunteers are also needed to assist with set-up, donation sorting, distribution, gift wrapping, and more.
When can gifts be dropped off? Brand new, unwrapped gifts can be delivered to Waypoint's Main Administrative Office, Monday-Friday, 8:30 a.m.- 4:30 p.m. All gifts need to be delivered by December 10, 2020.
---
Housing & Homeless Services
Contact Waypoint
318 5th St SE
Cedar Rapids, IA 52401