It's Graduation Day!
Button up your gown, fix your cap, and secure your tassel because KidsPoint Child Care is celebrating preschool graduation!
On Wednesday, May 29, KidsPoint C Street held their graduation ceremony. 22 children participated and will be moving on to kindergarten in the fall. On Thursday, May 31st, 20 children graduated from the Rainbow Room at KidsPoint Downtown. The graduation ceremony was held in the ballroom at the main campus downtown.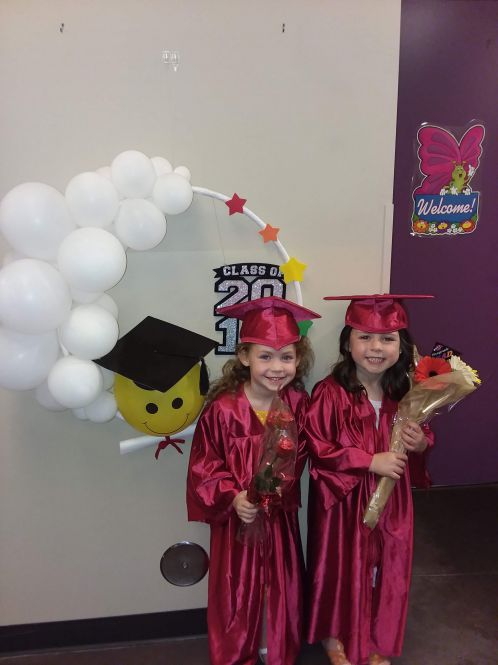 Did you know that 98 percent of children who graduate from a KidsPoint preschool program are considered developmentally on-track for kindergarten? The Creative Curriculum for Preschoolers at KidsPoint grows with each individual student while maintaining a focus on developing social, emotional, cognitive, physical, and language skills. The program provides children exploration and exposure to a variety of topics that prepares them for elementary school.
After graduation, some of the children will spend the summer at home before going back to school in the fall. Some of the children, however, will remain with KidsPoint through the summer. These children can look forward to a lot of fun activities and field trips including the park and splash pad days, trips to the PlayStation, going to the Children's Museum, spending time at the library, and enjoying special guest visitors.
KidsPoint and Waypoint congratulate all our preschool graduates and wish them a very fun, safe great summer!
Previous
This year, Waypoint marks 125 years of working to improve the lives of those in need in the community. With a long history beginning as the Young Women's Christian Association (YWCA), Waypoint is focused on providing life-changing resources and services to community members experiencing poverty, homelessness, and domestic violence.
Next
KidsPoint Summer Camp is in full swing and the kids are so excited for all of the activities they get to participate in.
SHARE THIS PAGE
Domestic Violence Resource & Support Line
Housing Services
Contact Waypoint
318 5th St SE
Cedar Rapids, IA 52401